Unisalon is a professional Hair Salon open to the public. We want provide you with a high quality, one on one natural Salon experience by sharing our tips and tricks with what suits your hair. We offer services using the finest products on the market. Our team of professional and dedicated staff strive to provide the highest level of professionalism and to build a long-lasting relationship of trust and commitment.
Norma Murphy
Manager Unisalon/Style director/Colourtechnician.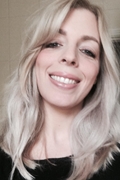 Norma has 25 years experience in the hairdressing industry.She specialises in precision and freehand cutting techniques and has a love of all things colour.Corrective,creative,classic foil,balayage and the list goes on. Book in for free consultation and skintest today.
Carolyn
Senior Stylist
Carolyn has been in the hairdressing industry for sixteen years. She is a senior stylist,passionate about all aspects of hairdressing especially coloring(hilites and balayage)cutting(classical,precision and creative) and is always up for a great up style.Gents cut and colour welcome also.
Tracey Ring
Training
UCC Student Centre,Donovans RoadUniversity College Cork, Cork
0214903069
Monday

Thursday

Friday

09:00 - 17:00

09:00 - 17:00

09:00 - 17:00